CYTA Spring Day Event 'Sound and Movement' with Paul Houghton and Andrea McCool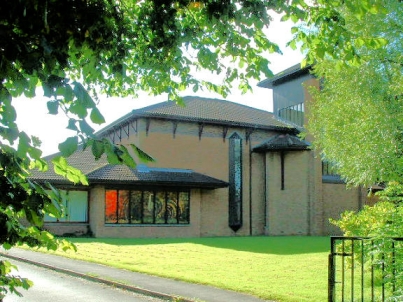 On Saturday 9th March 2019 we gathered together for the CYTA Spring Seminar at Trinity Methodist Church, Woodsmoor, Stockport. The event was open to members and non-members and was well attended.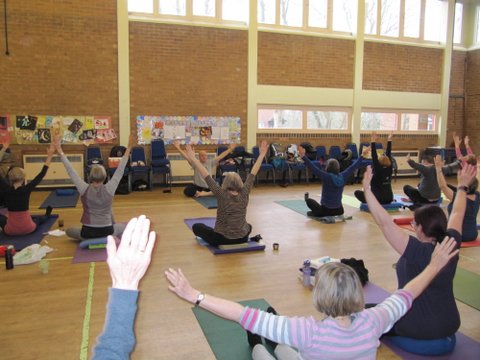 Teacher Paul Houghton began the day with a two hour session of Yoga postures. Paul brought his vast experience of not only Yoga but also Tai Chi and Qi Gong. There was something for all abilities and Paul showed us some innovative postures. In addition Paul demonstrated new variations of postures such as the Cobbler, Sage Marichi Three, Head to Knee Pose and Seated Angle. More adventurous Yogis were invited to perform Tiger Balance which gave those who attempted it a strong stretch!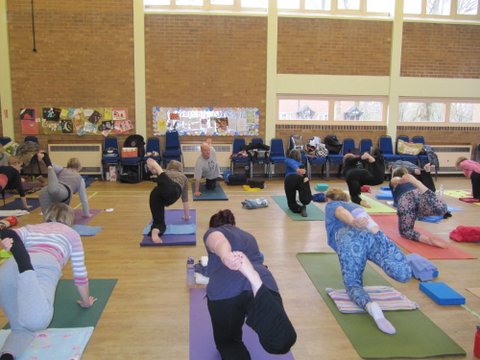 The session was a great success and gave the Yoga Teachers in the group some good ideas to take back to their classes.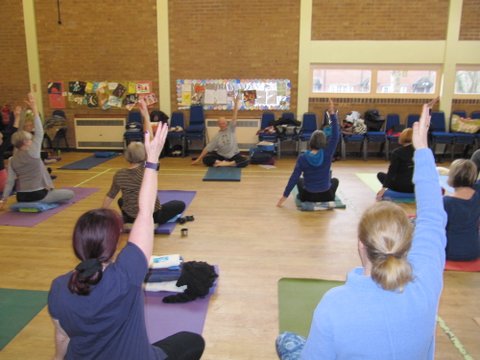 Thank-you to Paul for his hard work providing an excellent class. You can find out more about Paul on his website www.paulhoughton.co.uk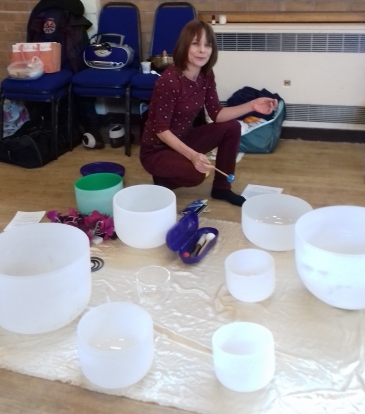 The afternoon session was taken by teacher Andrea McCool from Sonic Holistic who is an expert in sound healing. Andrea gave us a short introductory talk on what sound healing involves and explained the origin of her collection of crystal bowls. We then enjoyed an hour of healing as Andrea played sounds on her bowls. Each bowl resonates to a different note and each note corresponds to a different Chakra e.g. B – Crown, G – Throat, F – Heart, D – Solar Plexus, C – Base.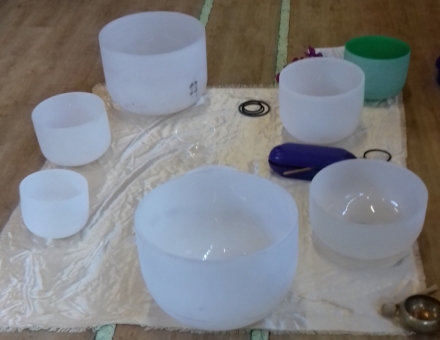 The sounds filled the room and produced a totally unique and memorable healing experience.
We ended the session by grounding ourselves stamping on the spot.
Sound healing was a new experience to many of the people who were there and there were several comments on how the sounds had resonated through the body helping with pain.
Thank-you to Andrea McCool for all her hard work providing an excellent class. You can see Andrea performing with her crystal bowl set on her Facebook page in the videos section although you will have to log in to Facebook first.
We all had a lovely day and thank-you to everyone involved especially our Chair Christine Royle who led a fantastic half hour meditation session in the middle of the day.